Holly Springs LED Signs
VIEW GALLERY
For a business to be recognized by its target market, it must use several marketing techniques. Some would invest thousands of dollars in their marketing strategy, while others would go back to basics and install personalized business signs. If you are thinking of using business signs, you should consider LED signs because they can be used for any application at any given time.
As its name implies, LED signs use LED screens that allow businesses to display any content that is guaranteed to be visible at night or during heavy weather. Compared to neon signs, which can also be used to help with brand promotion and information sharing, it is cheaper to use LED signs because they don't require constant maintenance and can be replaced easily. LED signs also do not require a huge amount of electricity to work, which is great news for small to medium-sized businesses.
Raleigh Sign Company is a highly rated, trusted, and experienced Holly Springs sign company that can help you get personalized LED signs for any application. Let us know what you are looking for, and our sign experts will be available to help you design it before we make it with industry-grade materials. Once it is installed, we guarantee that you will see a difference in how people perceive your brand, delivering great returns!
Call Raleigh Sign Company at (919) 355-3018 for your Free Consultation with a Holly Springs LED Sign expert!
Indoor LED Signs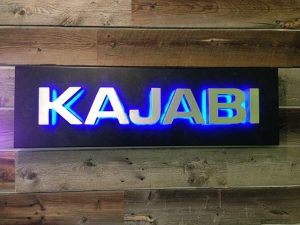 Contrary to popular belief, LED signs can be used for indoor applications.
In this case, indoor LED signs can be used as wayfinding signs, identification signs, and wall displays. It can be personalized to match your content and branding and will also be lit up so people can see it immediately. These LED signs can also be placed in key areas so people can check these areas, especially during promotions.
If you want to use your personalized LED signs for indoor applications, we can design them to your brand's theme and in the right dimensions and shape. We can add additional optimizations like animations and timing to make your content more eye-catching.
Programmable LED Message Centers
If you want an easy-to-update business sign that you can use for any event or promotion, our company can create programmable LED message centers for your business.
Programmable LED message centers can either be a standalone business sign or an additional feature of your existing business signs. We will sit down with you to know what kind of content will go on these message centers and show you how we can design it to match your content.
For these custom Holly Springs LED signs, we will train you on how you can update them easily. Our installers will also handle the electrical components and ensure that they are installed securely so they will not pose a safety hazard for people visiting your business.
Full-Service Lighted Sign Company
Whether you plan to use your custom Holly Springs LED signs as a storefront sign or a part of your interior display, Raleigh Sign Company can match your vision with high-quality LED signs that will surely help you flourish.
We build strong bonds with our clients as we make their personalized signs, allowing us to create the signs perfectly to their requirements. We use our experience and skills to make the sign-making process easier to understand. We deliver on time and keep everything within the budget.
All our custom signs are made in-house to make our sign service more efficient and guarantee that it will be made with industry-level processes and materials. Doing everything in-house allows our team to work together to create your requested business sign, from its design to its location. Our team can even help you with maintenance and repair work because we want you to enjoy your new custom business signs at all times.
We will also make on-site visits to know where these signs should go and recommend possible sign layouts, materials, or designs that will help deliver your content more effectively. Let us know what else you want us to consider for your signs, and we will ensure that the final product will deliver what you need.
Free LED Sign Consultation
LED signs can light up your display and open new ways to promote your brand, even at night. However, it would help if you made sure that your Holly Springs LED signs are personalized to suit your brand and the content you are trying to promote.
With Raleigh Sign Company, you can get a sign expert to help you design a LED sign that will truly fit your branding and get them done in short order. We also guarantee they will be made with your goals and quality. Whether you have a design ready for us to use or want us to start from scratch, we can make your vision a reality and help your business get the support it needs.
Call Raleigh Sign Company at (919) 355-3018 for your Free Consultation with a Holly Springs LED Sign expert!