Wake Forest Dimensional Letters
VIEW GALLERY
Are you searching for a durable storefront or welcome sign that will impress your guests and customers? Invest in our customized Wake Forest dimensional letters at Carolina Signs and Wonders!
These individually cut signage elements are also appropriately called 3D letters or raised letters. They are available in various thicknesses, sizes, and materials—allowing you to choose the best style that matches your desired appeal.
Dimensional letters further allow you to capture your brand's essence by taking the shape of any letter, number, or symbol in your desired font. Moreover, despite only having 'letters' in their name, your dimensional letters can also be molded into your logo or other chosen images and icons.
This signage type is suitable for indoor and outdoor use. You can install dimensional letters on your building's facade, lobby, or any interior wall where you wish to make a bigger impact. Discuss your plans with our signage experts today, and we'll do our best to deliver the best dimensional letters that match your budget and meet your design expectations!
Call Carolina Signs and Wonders today at (919) 355-3018 for your Free Consultation with a Wake Forest Dimensional Letter expert!
Appealing Storefront Signage
The appeal of customized dimensional signs as storefront signs are hard to beat. Being three-dimensional, they make a more visible representation of your brand and help outshine the competitors around you.
No matter your business, Carolina Signs and Wonders can tailor Wake Forest dimensional letters to perfectly reinforce your branding image. They can make any building look more sophisticated on the outside and help improve the public's perception of your business. More importantly, we make them out of durable materials so you can keep a professional-looking storefront that attracts customers every day for a long time.
We can also provide illuminated dimensional letters for businesses only open at nighttime or operating 24/7. While they cannot be incorporated with lighting within the actual sign elements, unlike channel letters, there are other ways to make them shine. You can choose LED backlighting or other methods that our sign experts will recommend.
Moreover, it's not only on buildings that dimensional letters can be installed. If you wish to put an impressive welcome sign meters ahead of your entrance, you can incorporate them on monument signs.
Attractive Indoor Lettering
Aside from their proven efficacy as outdoor signs, our Wake Forest dimensional letters also serve as excellent indoor signage options.
With the help of our skilled signage designers and manufacturers, the professional atmosphere within your office or business can be easily elevated.
Typically, these letters find their place near the reception area, where they can create an impressive and inviting ambiance for your customers. Unlike 3D lettering, dimensional letters can be crafted into various shapes, symbols, or logos that can help effectively represent your brand identity and improve your interior's overall appeal.
You also have the freedom to select specific fonts and spacing for a more tailored look of your dimensional letters. Our in-house graphic designers are available to assist you in decision-making and in perfecting the other customization details necessary, such as the thickness, size, material, and lighting.
Durable Dimensional Letters
Like our other signage products, our dimensional letters will be delivered and installed in the most durable way possible. The materials we use at Carolina Signs and Wonders have the highest quality we can fit within your budget.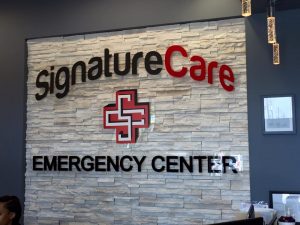 Our signage experts will consider your intended installation area as we help you decide which material to use. This is our way of ensuring that your dimensional letters will last as long as possible under the conditions they will be exposed to. Included in your options are metals, plastics, and light foams.
For most businesses, installing metal dimensional letters is perfect for long-term outdoor applications. Aside from having a more classy look, metals (e.g., aluminum, bronze, copper, or stainless steel) tend to be long-lasting.
On the other hand, plastic materials like acrylic and PVC are known for their versatility. They are applicable for indoor and outdoor uses as they last long, even against various weather conditions. However, light foam can be the solution if you want a more affordable option. They can also hold on their own for an extended period, even longer, when only used as indoor dimensional letters.
Don't worry if you're unsure what material to pick. Our signage experts would love to answer your questions and give you a more comprehensive explanation of the pros and cons of each material. Rest assured that we will help you pick the material that best matches your needs in terms of functionality, design, and overall cost.
Full-Service Sign Company
At Carolina Signs and Wonders, we approach every signage installation project with unwavering precision and a commitment to producing excellent results. From the conceptualization of your dimensional letters' design to their expert manufacturing and seamless installation, our comprehensive signage service will certainly meet your expectations and beyond.
Our process begins with a free initial consultation, where we'll talk about your vision, budget, and insights. It's here where you can list your needs, and we engage in a collaborative exchange of ideas to meticulously design and realize the perfect embodiment of your envisioned signage.
We also need to expand ourselves beyond the realm of dimensional letters alone. Our fully equipped, versatile team boasts the expertise vital to custom design, fabricate, and install a diverse array of signage—all tailored precisely to your requirements. Whether you aim to have reinforced indoor elegance or improved outdoor impact, rest assured that we can fashion the ideal signage to convey your message.
Share your expectations and budget, and our Wake Forest, NC sign company will work diligently to meet and exceed your expectations, ensuring that your signage investment yields the utmost value.
Here are some of the other signage products that we can customize, fabricate, and install:
Channel letters

Digital signs

Electronic signs

Monument signs

LED signs
Free Dimensional Letters Consultation
Improve your storefront appeal and add a more sophisticated ambiance to your interior.
Work with Carolina Signs and Wonders and start envisioning your custom dimensional letters today!
Call Carolina Signs and Wonders today at (919) 355-3018 for your Free Consultation with a Wake Forest Dimensional Letter expert!